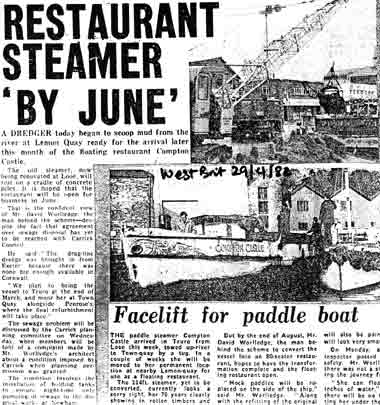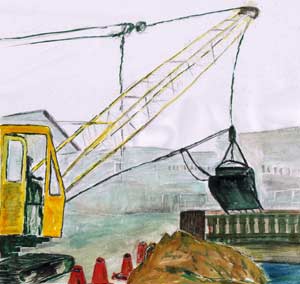 RESTAURANT STEAMER 'BY JUNE'
A Dredger today began to scoop mud from the river at Lemon Quay ready for the arrival later this month of the floating restaurant Compton Castle.The old steamer, now being renovated at Looe, will rest on a cradle of concrete piles. It is hoped that the restaurant will be open for business in June.
That is the confident view of Mr. David Worlledge, the man behind the scheme - despite the fact that agreement over sewage disposal has yet to be reached with Carrick Council.
He said, "The drag-line dredge was brought in from Exeter because there was none big enough available in Cornwall.
"We plan to bring the vessel to Truro at the end of March, and moor her at Town Quay alongside Penrose's, where the final refurbishment will take place."
The sewage problem will be discussed by the Carrick planning committee on Wednesday, when members will be told of a complaint made by Mr. Worlledge's architect about a condition imposed by Carrick when planning permission was granted.
The condition involves the installion of holding tanks to ensure night-time only pumping of sewage to the disposal works at Newham.